Private Rental Home on the Bay with Pool and Boat Dock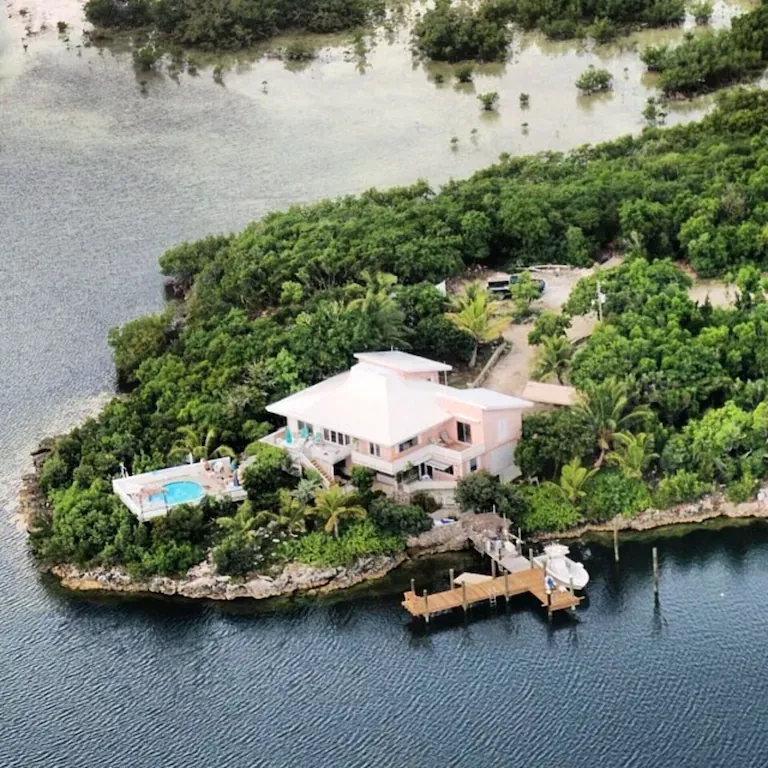 Seaside Cottage is a charming waterfront rental cottage located on a secluded peninsula on the bay. This beautiful home is surrounded by lush tropical flora that offers excellent privacy on a 6-mile long private island. Situated 45 feet above the water, this unique home is the perfect island getaway to escape to when you need some much deserved rest and relaxation.
Designed with tropical comfort in mind, Seaside Cottage is a well-appointed retreat that offers all the comforts of home without sacrificing genuine Bahamian living. The bright furnishings and well-light spaces create an open and spacious feel to the interior that keeps everyone satisfied during the entire trip. Outdoors you can soak in the refreshing fresh water pool, dock a private boat for bayside adventures, and relax on one of the three spacious decks while you bask in tropical Bahamian paradise.
Layout/Rooms
Seaside Cottage is an exciting and versatile rental home in a dreamy location right on the bay. This two-story cottage features beautiful vaulted ceilings and tile floors that create an open and airy feeling to keep you cool and comfortable. Upstairs you'll find 3 bedrooms, a well-appointed kitchen area, and a cozy living area and game room to enjoy. The downstairs area has a full kitchen, living space, full bathroom, 2 beds, and its own deck, which can be rented separately or combined with an upstairs master king bedroom with a private entrance. Beautiful French doors drench all the spaces in light and open out to three sun decks that join together into the pool deck.
Outdoors you can enjoy the lovely fresh water pool with breathtaking views of the bay. Enjoy any of the many outdoor seating options and settle down with a cold drink and good book while you relax in island luxury in a cozy chair or a breezy hammock. The verdant tropical landscaping that surrounds you offers excellent privacy, which is perfect for family get-togethers and romantic couples' retreats. Enjoy stunning views from any of the amazing sun decks or head out to your private dock to watch and feed the tropical fish.
4 Bedrooms, 3.5 Bathrooms
1 Upstairs Master King bedroom with 1 bed, ensuite bathroom, and private entrance
1 Upstairs King Bedroom with 1 king bed
1 Upstairs Queen Bedroom with 1 queen bed
1 Downstairs Queen Bedroom with 1 queen bed and 1 twin bed
There's also a Seaside Villa complex with 1 Bedroom available right on the beach
1 Queen Bedroom, 1 Bathroom, Full Kitchen, Living Space, Beachfront
Highlights
Private fresh water pool for refreshing swims with amazing views
Private dock for boats up to 50 ft where you can go fishing and stargazing
Hammock by the water to curl up with a good book in
Three sun-drenched decks to relax on while soaking in the island sun
Available car and boat rental options to get you anywhere on the island
Pool table, kayaks, and games to enjoy while renting the home
Optional ways to rent: Entire House, Upstairs only (3 Bedrooms), Downstairs only (1 bedroom), Downstairs plus 1 Bedroom apartment, or the 1 Bedroom Seaside apartment
Location
Seaside Cottage is a waterfront rental on a private 6-mile island in Great Harbour Cay on the Berry Islands in The Bahamas. The sweet home is surrounded by verdant natural landscaping at the edge of a quiet harbour on the bay. Seaside Cottage is conveniently located near to shops and restaurants so you have access to everything you need during your stay. Take in the breathtaking views from this serene and private location and enjoy everything The Bahamas has to offer from the comforts of your own home!