Charming Vintage Bahamian Village Home with Saltwater Pool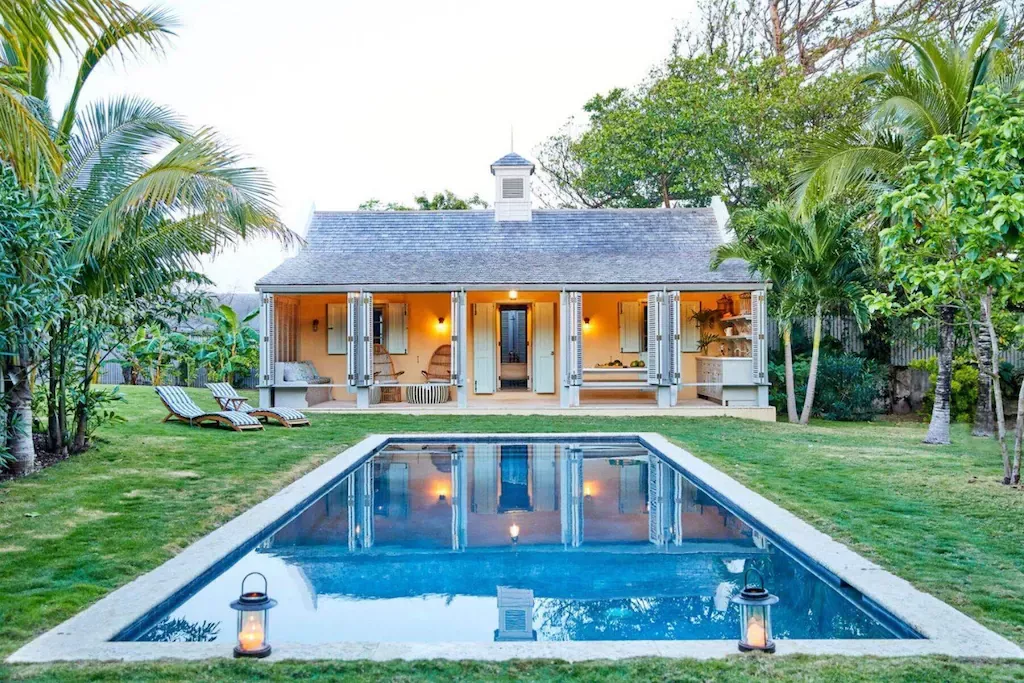 Fall in love with vintage charm at Salt Box, a gorgeously rustic property that has been thoughtfully renovated with luxury and comfort in mind. This rental home offers a unique vacation getaway experience that you'll never want to end. Featuring both a main house and a detached cottage connected by a stunning heated salt-water pool, Salt Box is the perfect place for a couples' retreat, family reunions, or celebrations with friends.
The old style charm of Salt Box creates a very romantic setting that brings ease and comfort to everyone who enters it. Some of the features of this lovely home date back as far as 1820 while still incorporating modern appliances and finishes that make Salt Box the ideal home away from home. The outdoor garden area is excellent for entertaining, and the refreshing pool and outdoor showers are an extra added bonus to an already stunning space!
Layout/Rooms
Salt Box is made up of a main house with 3 bedrooms and a cottage just behind the pool with 2 additional bedrooms. The main house's cozy interior boasts a stunning old-style kitchen fully stocked with everything you need, plus an absolutely stunning historic fireplace backdrop from the original architecture. The indoor reading nook/TV room is a great spot to unwind after an exciting day of island fun, and the tropical outdoor living room offers even more comfortable lounging options while still enjoying the island weather. The cottage features another beautiful outdoor living room, as well as a covered outdoor dining space for 10 where you can enjoy al fresco meals under the sun and stars.
Connecting your beautiful covered outdoor verandas is a private, walled-in garden and the heated salt-water pool that's perfect for daytime and midnight swims. The garden features plenty of space for entertaining and bringing family together in one charming location. Outdoors in the garden you'll also find a stunning clamshell BBQ area created from stones repurposed from the vintage home, which is one of the most beautiful and unique places to enjoy your fresh catches of the day while relaxing under the swaying palm trees.
5 Bedrooms, 3 Bathrooms
1 Main House Queen Loft Bedroom with 1 queen bed and ensuite bathroom with spa tub
1 Main House Queen Bedroom with 1 queen bed and shared bathroom
1 Main House Twin Bedroom with 2 twin beds and shared bathroom
1 Cottage King Bedroom with 1 king bed and shared vintage bathroom with spa tub
1 Cottage Twin Bedroom with 2 twin beds and shared vintage bathroom with spa tub
Highlights
Heated salt-water pool for refreshing swims during the day or night
Detached cottage for extra privacy and space
Outdoor hammock carefully poised between two tropical palm trees
Clamshell BBQ pit with cozy lounging area
2 outdoor living rooms for gathering and relaxing with loved ones in the tropical breeze
Covered outdoor dining space perfect for amazing island meals together
2 large outdoor showers for refreshing rinses between swims and adventures
Historic fireplace and other features that date back to 1820
Location
Salt Box is located in Dunmore Town on Harbor Island in The Bahamas. This beautiful rental home is within walking distance of shops, restaurants, and any other amenities you need, plus just a short golf cart away from the beach! Harbor Island is a gorgeous island known for its beautiful beaches and idyllic weather. Enjoy this much-deserved escape from reality away from the crowds and let the magic of this tropical location soothe your mind and soul. You'll never want this trip to end!
You Might Also Be Interested In: