Bahamas Beachfront Villa on Salt Pond's Grotto in Long Island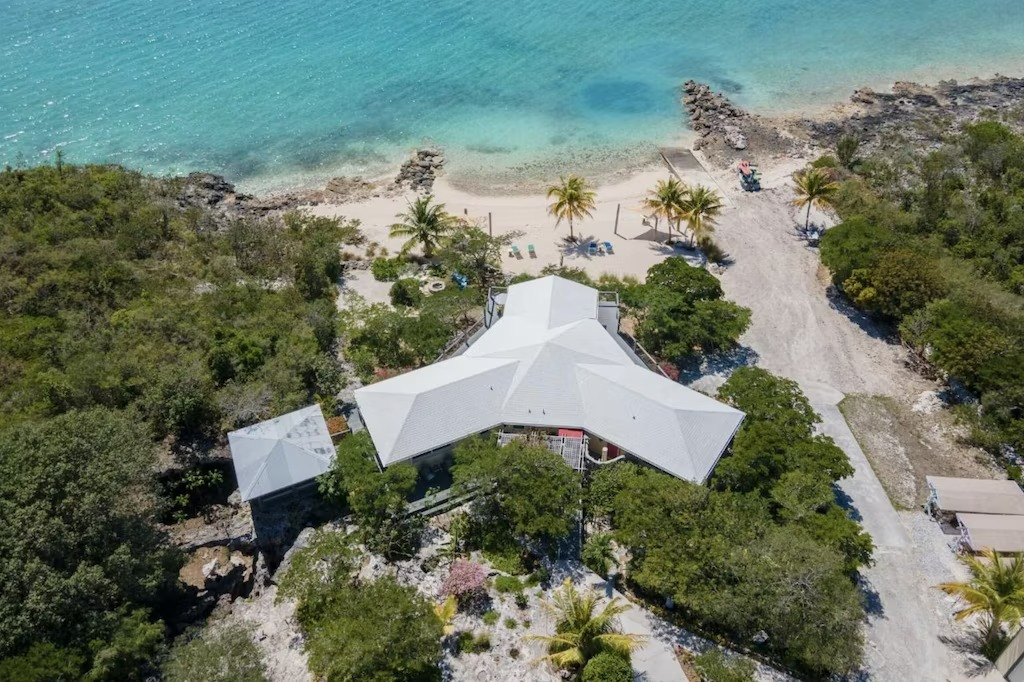 Grotto Bay in The Bahamas sits on a secluded piece of paradise on Long Island. This luxurious 5-bedroom, 5-bath beachfront vacation villa is beautifully landscaped and surrounded by towering mature trees. Grotto Bay offers a tranquil and relaxing environment to help you restore your well-being. Walking into the open-concept living area, you'll notice the large windows and glass slider doors filling the space with natural light. The tall ceilings enhance the soothing ambiance, making it a wonderful place to relax and unwind.
Ocean panoramas continuously flow to the open kitchen, fitted with cabinetry, modern appliances, and a multi-seater V-shaped island suitable for entertainment. A stunning front yard garden and overlooking ocean view await in the private retreats, creating an inviting mood to repose after a tiring day. A vanity and shower complete the bathrooms.
Ground-floor studio units can accommodate extra guests and provide privacy, tailor-made with queen-sized beds, a kitchen, bathrooms, and an expansive covered patio. A wrap-around balcony overlooks the Salt Pond, Bahamas' Cave Grotto and an ocean vista that lets you admire the sunset as you wrap up the day. Private beach access allows visitors to explore what Long Island's turquoise waters offer, including kayaking, canoeing, and snorkeling.
Layout/Rooms at Grotto Bay
A front yard oasis invites you to discover the open plan living areas, where generous windows, glass doors, and neutral hues decorate the interior that lays a cozy tone as you settle in. Enjoy tasty meals in the dining area as you admire the panoramic views at every turn. Unleash your culinary skills in the kitchen fitted with modern appliances, ample countertops, and a striking multi-seater island.
There are two bedrooms on the main floor and three studio units on the ground level, all decorated with ceiling cladding, chic color tones, multiple single-hung windows, and glass sliding doors, making indoor and outdoor living seamless. Showers and vanities complete the bathroom decor. The wrap-around balcony comes complete with ample seating furniture and majestic views of the ocean and the sunset. Water enthusiasts will enjoy the beach nearby, where kayaks and canoes are available for exploring the crystal-clear sea.
5 Bedrooms, 5 Bathrooms
1 King bedrooms with 1 king bed
1 Queen bedroom with 2 queen beds
3 Studio units with 3 queen beds
Grotto Bay Highlights
Located on quiet, private beach
Wrap around balcony ideal spot for relaxation
An open-concept living area overlooking the beach
Well-suited gourmet kitchen
Cozy bedrooms with private outdoor access
A covered patio
Direct private access to the beach
Outdoor shower to keep you fresh after a quick dip in the ocean
Central air conditioning to cool off the tropical weather
Smart TV's
WiFi internet
Grotto Bay Location
Long Island is famous for its beautiful coral reefs and pristine beaches. Numerous worth-seeing attractions are available for guests to explore, including Dean Blue Hole, the second-deepest hole in the world. This unique attraction is a geographical wonder that entices tourists to explore, especially divers. A few hundred feet off Queen's Highway, you'll find Hamilton's Cave, the largest cave system in the Islands of The Bahamas. Other notable destinations to drop by are Conception Island National Park, Columbus Point, and Twin-towered Churches in Clarence Town, to name a few.