Secluded Beachfront Villa on White & Pink Sand Beaches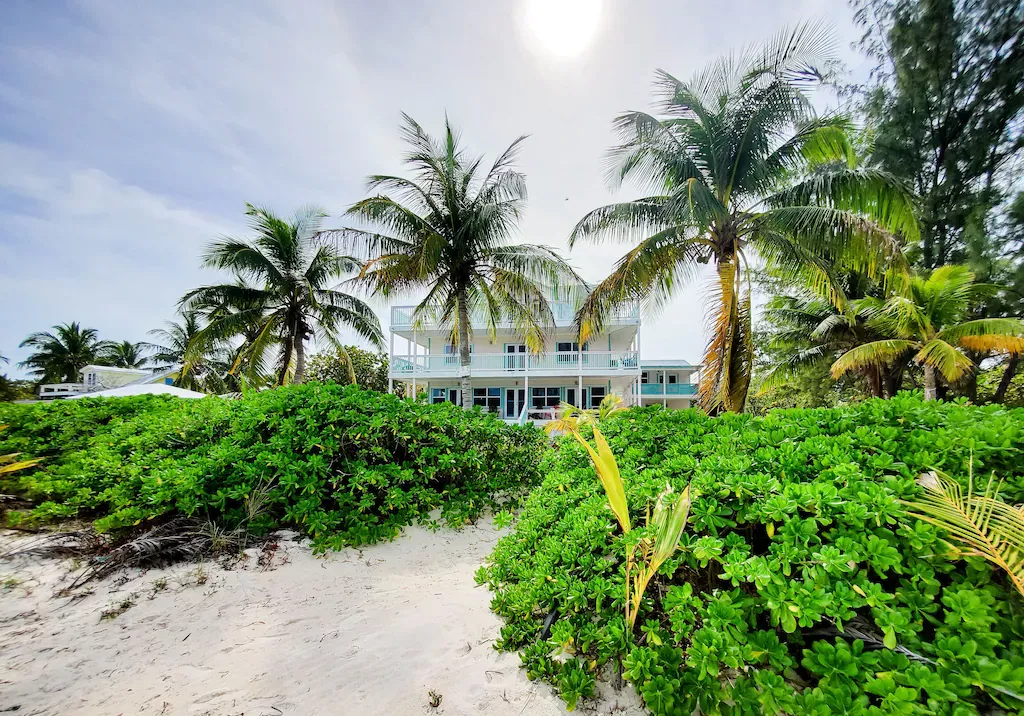 Paradiso Oasis is the perfect island getaway for family and friends to relax and unwind in one of the most beautiful locations in The Bahamas. This rental villa has plenty of space for big groups to gather together and make unforgettable island memories in the sun and sand. Located just steps from the warm, tropical waters that surround it, Paradiso Oasis has everything you need to to enjoy the perfect island vacation.
The turquoise blue waters, powdery soft pink sands, and secluded location make this spot one of the most unique retreats on Spanish Wells. This serene part of The Bahamas will make you feel like you've just been let in on the Caribbean's best kept secret, with jaw-dropping views and plush accommodations in every corner. Get cozy in your new home away from home and let the magic of the island soothe your soul!
Layout/Rooms
Paradiso Oasis is the only 3-story rental home on Spanish Wells, with a spacious interior that comfortably sleeps up to 14 guests. Take in the stunning views from almost every room in the house and enjoy the sweet tranquility of the calming waters and endless sands. Indoors you'll find a cozy layout with comfortable seating spaces, a breakfast nook, and the perfect kitchen and island, fully stocked for all your culinary needs. The space offers plenty of comfort while keeping everyone connected and happy.
Just outside your door is direct access to the one of the most sought-after beaches in the world, right in your own backyard. Enjoy the surrounding palm trees and natural tropical flora that encompass the home, offering both privacy and luxury while you relax and enjoy the ocean breeze. Dine al fresco with nature on the beautifully covered wraparound porch for the ultimate paradise bonding activity to share with your loved ones. Unlimited adventures await you in every direction on the island, and you never even have to leave the villa to experience true Bahamian living in a dream location.
4 Bedrooms, 4 Bathrooms
1 First floor Queen bedroom with 1 Queen bed, ensuite bathroom, and ocean views
1 Second floor King bedroom with 1 King bed, ensuite bathroom, and ocean views
1 Second floor King bedroom with 1 King bed, optional crib, ensuite bathroom, and ocean views
Third floor open bedroom with 8 Twin beds, nearby bathroom, and direct patio access with ocean views
Highlights
Direct access to private pink sand beaches and warm ocean waters
Outdoor shower for refreshing rinses among the natural landscaping
Wraparound porches on all three levels to enjoy a cold drink with the view
Chef's kitchen and granite countertop island with top-of-the-line appliances
Flat-screen TV to enjoy movie and game nights indoors after a long day
Available kayaks and paddleboards to use during your visit
Location
Paradiso Oasis is located on a quiet street in Spanish Wells, The Bahamas. This outer island of The Bahamas is part of the North Eleuthera archipelago, known for its incredible untouched beaches and miles of stunning blue waters. This is the best spot to swim, kayak, go fishing, and embark on new adventures with your friends and family. This secluded section of the island offers peace and comfort while allowing you to feel safe and secure. Take a short ferry ride to nearby islands if you're feeling curious, but remember that everything you need is right here at Paradiso Oasis, the ideal vacation getaway.
You Might Also Be Interested In: