Vintage Beach Style Rental Home in Stunning Spanish Wells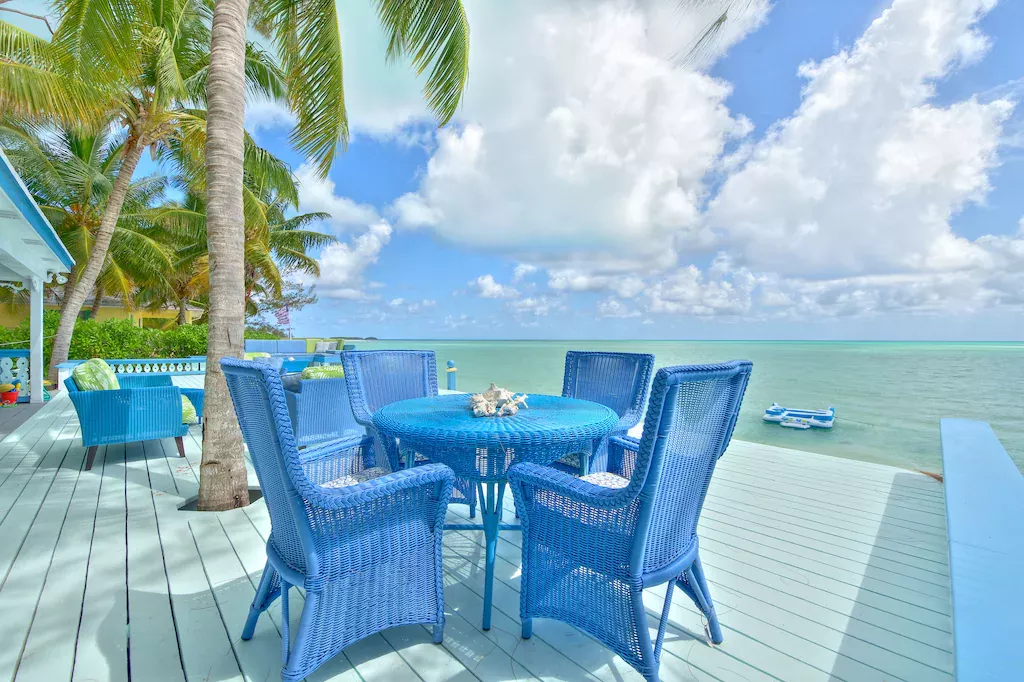 Come enjoy the perfect slice of paradise at Palm House, the quintessential escape from everyday life. This Bahamian oasis is the ideal location to let the soothing palm trees, miles of powdery soft sands, warm waters, and idyllic weather wash the stress right off your shoulders. With room for up to 12 guests to enjoy, Palm House is a great spot to gather together with friends, family, and all your favorite people to experience true island living.
Enjoy the best of The Bahamas in this vintage style home where you can take in the breathtaking views outside and relax in comfortable luxury inside. This home enjoys all the pleasures of home, making it easy to feel comfortable and safe with all the amenities and special touches you could hope for. Get ready for the vacation of a lifetime that you'll never want to end!
Layout/Rooms
Palm House features a beautifully cozy interior with an open floor plan that keeps everyone connected while spending time indoors. Sit back and relax in the plush living area with TV and entertainment for late nights together with a movie. Enjoy the dining and kitchen areas fully stocked with everything you need to make great meals and plan exciting days on the island. Take your meals out front to dine with the swaying palm trees on your quaint front porch, or out back to the expansive seaside deck for meals with the ocean breeze.
Outside you'll find an expansive, partially covered resort style deck with numerous seating options for you to gather with your family to experience the jaw dropping beauty of the island. Just steps from the deck is the endless turquoise ocean with the warmest, calmest waters you've ever been in. Sink your feet in the sugarsoft sands and feel the relaxation take hold as you enjoy paradise bliss. Come back out at night for amazing stargazing opportunities that will take you to a whole new world!
4 Bedrooms, 4 Bathrooms
1 Queen room with 1 queen bed
1 Queen room with 1 twin bed and 1 full bed
1 Queen room with 1 twin bed and 1 full bed
1 King room with 2 full beds, bassinet, crib, and toddler bed
Highlights
Outdoor shower for refreshing rinses between swimming trips
Seaside deck with stellar views to enjoy with a good book and a cold drink
Palm-front porch with porch swing and tropical patio furniture
Direct access to a perfect slice of private beach
Available kayaks and bicycles to explore all aspects of the island
Location
Palm House is located right on the shores of Spanish Wells, Eleuthera, The Bahamas. This amazing rental home is set right in a peaceful cove with calm, shallow waters that are perfect for the whole family to enjoy. Spanish Wells is known for its phenomenal swimming and fishing opportunities, so take advantage of the paddle boards, kayaks, and other beach gear available for use while staying in the home. Palm House is just a short walk from grocery stores, restaurants, and other shops and stores on the island. Everything you need to bask in paradise is right here at your fingertips, so take in every amazing topical moment!
You Might Also Be Interested In: