Beachfront Villa on Pink Sand Beach, with Private Pool & Hot Tub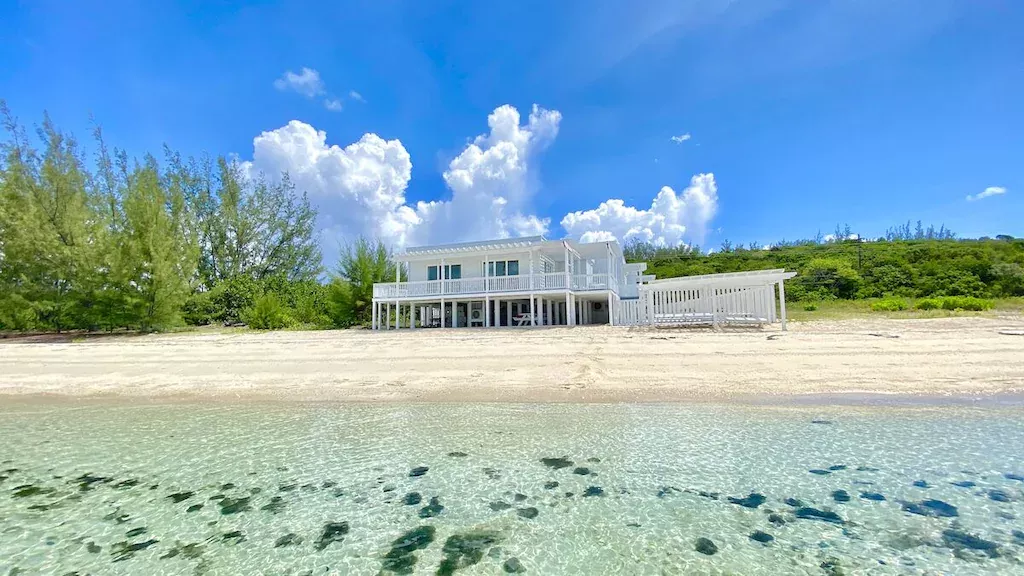 The Caribbean SandCastle is a spectacularly luxurious beach villa raised on pillars above a soothing pink sand beach. Escape to this magical paradise to experience the best that island living has to offer, with breathtaking views as far as the eye can see and gentle waves right at your feet. This rental villa features a private pool and hot tub located directly on the property, as well as room for up to 10 guests to enjoy together.
Take the vacation of a lifetime in this one-of-kind home that gets you closer to the water than any other property. The breathtaking experience of dining and lounging above tranquil blue waters is one you will never forget. Perfect for couples' getaways or family retreats, everyone will find their own slice of paradise in your new home away from home, at The Caribbean SandCastle.
Layout/Rooms
Experience luxury in every room of The Caribbean SandCastle. The lavish great room hangs delicately over the ocean, featuring three distinct areas in the open-concept living space to enjoy. The entertainment area contains plush seating (plus 2 sofa beds) and plenty of leisurely activities to revel in while indoors, which leads to the well-appointed kitchen and dining areas that are fit with everything you need for perfect island meals. The living area offers serene privacy with beautiful views and direct access to the veranda, making it easy to keep everyone connected even when in different spaces.
Outdoors you'll be greeted by the expansive blue views of the tropical waters. The suspended deck houses the heated pool and hot tub, as well as large, multilevel wraparound decks that offer stunning vantage points to admire the island from. The large shaded deck sits at the water's edge where you can enjoy al fresco meals with the ocean breeze and watch the stars at night. When you're ready for a rejuvenating rest after a long day of adventure, cozy up in one of the four bedrooms for a refreshing night's sleep.
4 Bedrooms, 4 Bathrooms
1 King bedroom with 1 King bed, ensuite bathroom, and oceanview deck
1 King bedroom with 1 King bed or 2 twin beds, and oceanview deck
1 Queen bedroom with 1 Queen bed, ensuite bathroom, and oceanview deck
1 Queen bedroom with 1 Queen bed, and oceanview deck
Highlights
Heated pool and private hot tub with ocean views as far as the eye can see
Private access to pink sand beaches and incredible sunset evenings
Wraparound deck suspended over the water for unique sightseeing
Outdoor shower for refreshing rinses in between swims
Elevated shaded outdoor dining space to gather together and cook outdoor meals
Three available kayaks to use for fishing adventures out at sea
Location
The Caribbean SandCastle is located on Alabaster beach on Governor's Harbour, Central Eleuthera, in The Bahamas. Eleuthera is known for its stunning stretches of beach and secluded privacy. This amazing rental home sits right on top of pink sand beaches with calm, soothing waters that will melt all your troubles away. Located only a few minutes from the town of Governor's Harbour, this beach retreat is perfectly located to offer you soothing privacy while still being close to all the amenities you need. You can never spend too much time at a place like this!
You Might Also Be Interested In: