Beautiful Waterfront Rental Cottage with Private Beach & Marina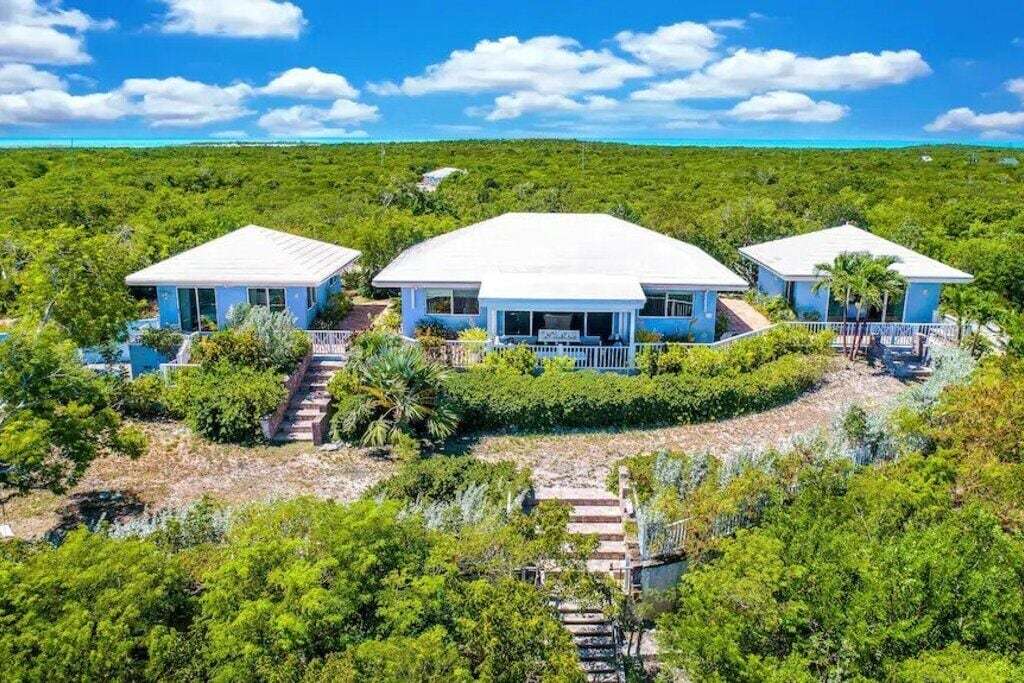 Calypso Hill is a unique, newly renovated, 3-part waterfront rental property with a private marina and exclusive beach access. You can dock your own boat so that you're free to explore the water any time and check out all the amazing features of The Bahamas. This private, quiet location is the perfect retreat from everyday life, and you'll find yourself swept away by the island's beauty from the second you arrive.
This property features separate buildings that offer you the freedom to accommodate a wide range of guests and their preferences. Enjoy the crystal clear waters down at the beach or simply take in the mesmerizing views from your patio. This is the ultimate relaxing vacation spot away from it all where you can get some much-needed rest and give your body the rejuvenation it deserves. Spend time in the natural tropical landscaping that surrounds the property and immerse yourself in the Bahamian flora to truly escape to island paradise.
Layout/Rooms
Calypso Hill's spacious interior is perfect for large gatherings with plenty of seating opens, an open floor plan, and two separate cottages to help everyone feel connected while also offering sweet privacy when needed. The main house features a large luxury kitchen that opens out to the cozy living and dining spaces and provides you with everything you need to make excellent island meals. The high vaulted ceilings give an open and airy feel to property, keeping you cool and happy during your entire stay.
The double glass doors in the living space offer tons of natural light and open directly out to the well-appointed patio filled with comfortable outdoor seating. The patio has beautiful views of the verdant landscape and blue waters, and there are plenty of spaces to gather with loved ones and enjoy the warm island air. Use the available BBQ to grill up any of your daily catches and enjoy dining together with these amazing views.
5 Bedrooms, 3 Bathrooms
1 Main House Queen Bedroom with 1 bed
1 Main House Queen Bedroom with daybed/trundle (sleeps 2) and amazing ocean views
1 Family Cottage Queen Bedroom with 1 bed and direct garden patio access
1 Family Cottage Queen Bedroom with 3 bunk beds (6 beds total)
1 Master Suite Cottage King Bedroom with 1 bed, ensuite bathroom, and walk-in closet
Highlights
Private marina so you can dock and take your boat out at any time
Private beach just a short walk from the home
Kayaks and paddle boards to explore the waters with
Beachfront swing to relax in while enjoying the ocean breeze
Plenty of space for everyone to find room in
Location
Calypso Hill is located in Hartswell, Exuma, a wonderfully private and laid-back part of the island that gets you away from crowds and noisy gatherings. This vacation home is a short drive from the airport, and you're close by to shops and amenities. Enjoy the private beach and marina access so you can use a rented or private boat to navigate any section of the island and relish everything The Bahamas has to offer. Moriah Harbour National Park is just a short boat ride away, and an amazing location you won't want to miss. Calypso Hill is the ideal spot to find some peace and quiet, so soak it all in and enjoy!
You Might Also Be Interested In: