Elegant Beach Villa on Tranquil Hooper's Bay Beach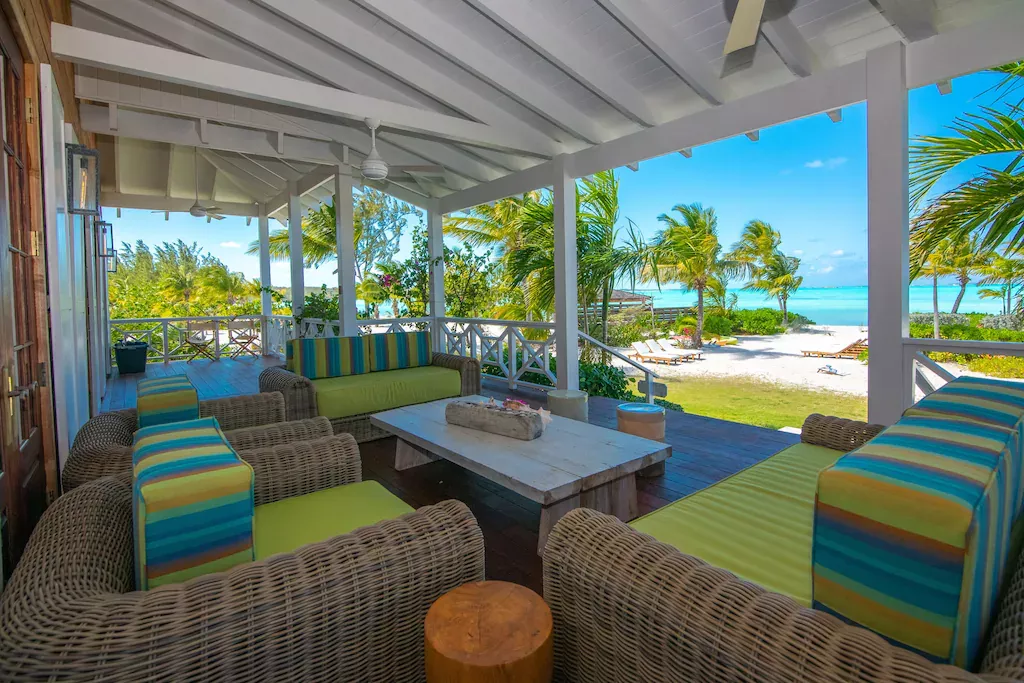 O'Sea Beach House is a unique waterfront rental located right on the stunning, tranquil beaches of Hopper's Bay. This beautiful Bahamian beach home is located in Exuma and has its own private dock where you come and go by boat as you please. Enjoy a true island experience in this beautiful villa that's filled with enough character and island charm to enchant you throughout your entire stay.
This vacation beach home is perfect for couples, families, or groups of friends to come enjoy, with 4 spacious bedrooms available to comfortably accommodate up to 9 guests. You'll find endless seating and relaxation areas both inside and outside the home so you can enjoy everything the island has to offer, no matter what your mood. Because the weather is nearly perfect year-round, you can take advantage of O'Sea Beach House's amenities any time, day or night.
Layout/Rooms
O'Sea Beach House features a stunning open layout with a gorgeous living and dining space that's perfect for bonding and relaxing with your favorite people. You'll find high-end appliances and all the amenities you need in the spacious chef's kitchen with a passthrough window so you can stay connected with everyone outside. Take in the stunning views from any room in the house and enjoy living the perfect island fantasy in this amazing tropical home.
From out on the deck you can take in the breathtaking panoramic views of the beach and endless turquoise waters. There are numerous cozy outdoor seating options where you can relax with a cold drink or a good book, or get together to share al fresco meals in the ocean air. From the deck you're just steps from the ocean and your own private dock, which is great for diving, turtle watching, or taking off to explore the island by boat.
4 Bedrooms, 4 Bathrooms
1 King Bedroom with 1 king bed or 2 twin beds
1 King Bedroom with 1 king bed or 2 twin beds
1 Queen Bedroom with 2 beds
1 Bedroom with 3 twin beds
Highlights
Secluded beach to enjoy the swaying palms, tranquil waters, and sugar-soft sands
Private dock for your own private or rental boat needs
Outdoor dining table table for perfect meals amongst the palms
Beautiful interior tropical garden space in the center of the home
Resort-style lounge chairs on the beach for sunbathing and relaxing
Spa tub perfect for unwinding in after a long day exploring the island
Outdoor shower for refreshing rinses between beach trips
Location
O'Sea Beach House is located on Hooper's Bay beach in Exuma, The Bahamas. This wonderful beach home rental is just minutes from the airport, as well as just minutes from George Town where you can explore shops and restaurants and find all the amenities you need for your stay on the island. Hooper's Bay boasts some of the calmest and most pleasant waters in The Bahamas, so enjoy every minute of your stay by soaking in the sun, diving into the clear blue sea, and taking a well-deserved break on your tropical island getaway.
You Might Also Be Interested In: