Dreamy Beachfront Rental in a Gated Community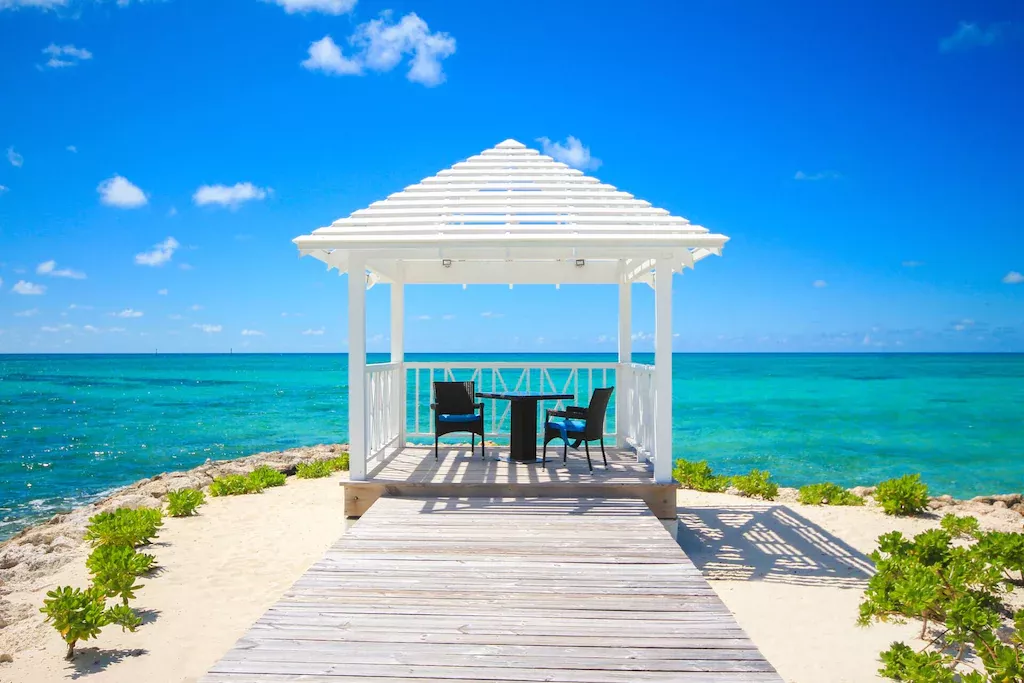 Coolibah villa is a modern and luxurious beachfront rental villa that sits on some of the most stunning white sands in The Bahamas. This gorgeous rental offers top-of-the-line amenities so you can live in the ultimate state of comfort while enjoying paradise bliss on the island. The breathtaking views from this 3-story townhome provide all the inspiration you need to explore the exquisite turquoise waters and the miles of sugar-soft sands. 
Because Coolibah villa is located in a gated community, you and your entire party get access to exclusive features such as a pool, tennis courts, spas, restaurants, and so much more all while enjoying the security and comforts of the community. Take a load off your mind and let your body rest in one of the most beautiful locations in the world here at Coolibah villa. This is one stunning vacation that you won't ever want to end!
Layout/Rooms
Coolibah villa is a lavish 3-story townhome with a clean and modern interior featuring an open-concept layout that helps keep the whole party connected. The spacious living area offers plush seating and beautiful ocean views, as well as an entertainment area to relax with after a long day of island fun. This beautiful living space opens to the well-appointed kitchen and breakfast bar that are fully stocked for all your delicious meals, which can be taken in the elegant dining space or outside on the deck for an al fresco experience with an ocean view.
Enjoy breathtaking views from any of the three floors, each with their own balcony to step out to take in the fresh ocean air. Coolibah villa is surrounded by a large deck with resort-style loungers available. Here you can curl up with an ice cold drink and your favorite book while you listen to the sound of the crashing waves as the tropical breeze keeps you refreshed and relaxed. Just steps from your door are powder-soft sands and access to some of the bluest, clearest, and warmest waters in The Bahamas.
4 Bedrooms, 3.5 Bathrooms
1 Second Floor King Bedroom with 1 king bed, ensuite bathroom, and private balcony
1 Second Floor Twin Bedroom with 2 twin beds and ensuite bathroom
1 Third Floor Queen Bedroom with 1 queen bed, shared bathroom, and private balcony
1 Third Floor Queen Bedroom with 1 queen bed and shared bathroom
Highlights
Direct access to miles of white-sand beach and crystal blue waters
Two upstairs balconies to take in the incredible views of the expansive ocean
Comfortably-appointed private deck for sun soaking and sightseeing
WiFi, central air conditioning, and a fully-stocked kitchen to keep you comfortable
Laundry room with washer and dryer for your convenience during your stay
Optional gazebo rental for sunset meals on the beach
Access to resort amenities including community pool, tennis courts, playgrounds, shops, spas, restaurants, and boat charters
Complex marina that offers charter tours, boat rentals, snorkeling, and other water activities
Location
Coolibah villa is located in Palm Cay, Nassau on New Providence Island, The Bahamas in a luxurious gated community on an expansive white sand beach. This ideal location offers you all the privacy and security you could hope for while still being near enough to shops and other amenities to keep you well-stocked with everything you need. The warm ocean waters are calm and crystal clear, making it the perfect place for the whole family to swim. Enjoy snorkeling, shell collecting, sightseeing, kayaking, and all types of beach-related activities while you have the vacation of a lifetime!