6 Bedroom Beachfront Vacation Rental in Elbow Cay With Pool!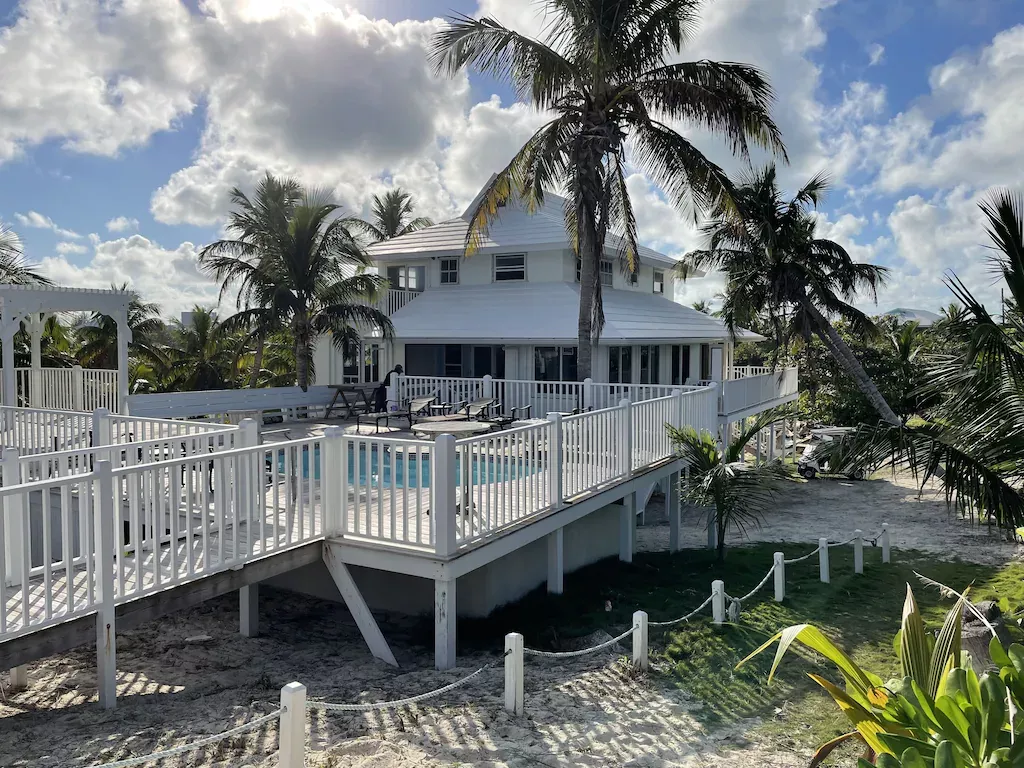 Acabo Bliss is a resort-style single family home on the beach with room for up to 16 guests in beautiful Elbow Cay. This beachfront rental property has a private pool and party-sized deck with a gazebo, which is perfect for entertaining and large gatherings. Enjoy the lounge chairs for sunning on the deck or beach during the day, and rejuvenate in luxury bedding during the night.
This stunning home is located just north of Hope Town in an area known for its seclusion and privacy. Enjoy the many adventures Elbow Cay has to offer by using the provided electric bikes, paddleboards, and other gear available with this property! This gorgeous home on a hill offers breathtaking views of the pristine waters located right outside your back door.
Layout/Rooms
Acabo Bliss beach home offers a light and airy interior with beautiful finishes that make this spot an idyllic home away from home. Spread out in the huge open concept living/dining room and kitchen with brand new appliances and a grand communal island. Enjoy the spacious dining table with views of the tropics or get cozy with a movie on the plush living room furniture. There are also excellent views from the second-story balcony where you can take in the fresh, Bahamian breeze.
Right out the back door is the expansive wooden deck that's built with large parties and family gatherings in mind. At the center of the deck sits your own private pool surrounded by enough lounge chairs for everyone to soak in the island sun. From the pool, deck, and gazebo, you've got stunning views of the ocean and lush tropical greenery. The deck also provides direct access to one of the finest beaches in Abaco and the world.
Acabo Bliss has 6 beds and 5 baths:
1 King-sized bedroom with bay window views
1 King-sized bedroom
1 King-sized bedroom
1 Queen-sized bedroom
1 Queen-sized bedroom with 2 queen beds
1 Queen-sized bedroom with 4 twin beds
1 full bathroom with tub, shower, and toilet
4 full bathrooms with toilet and shower
Highlights
Resort-style party deck with gazebo for large gatherings and celebrations
Upper deck with poolside views amongst the palms
Private pool surrounded by lounge chairs perfect for sun tanning
Direct access to the soft sand beaches of Elbow Cay
Convenient location close to stores and restaurants
The Location
Acabo Bliss beachside rental is located on top of a hill just north of Hope Town. It is conveniently located near the ferry dock and just minutes from town. Use the available electric bikes to pick up groceries and other amenities, or to explore everything Elbow Cay has to offer.
Lounge chairs are available for use on the beach or on your deck, where you can take in the jaw dropping views any time of day. You also have access to pool floats, beach towels, and any other comforts available at the home. This home also comes with a generator so you won't experience any interruptions on your tropical vacation getaway.
You Might Also Be Interested In: