Gorgeous Beachfront Rental Villa with Pool in Elbow Cay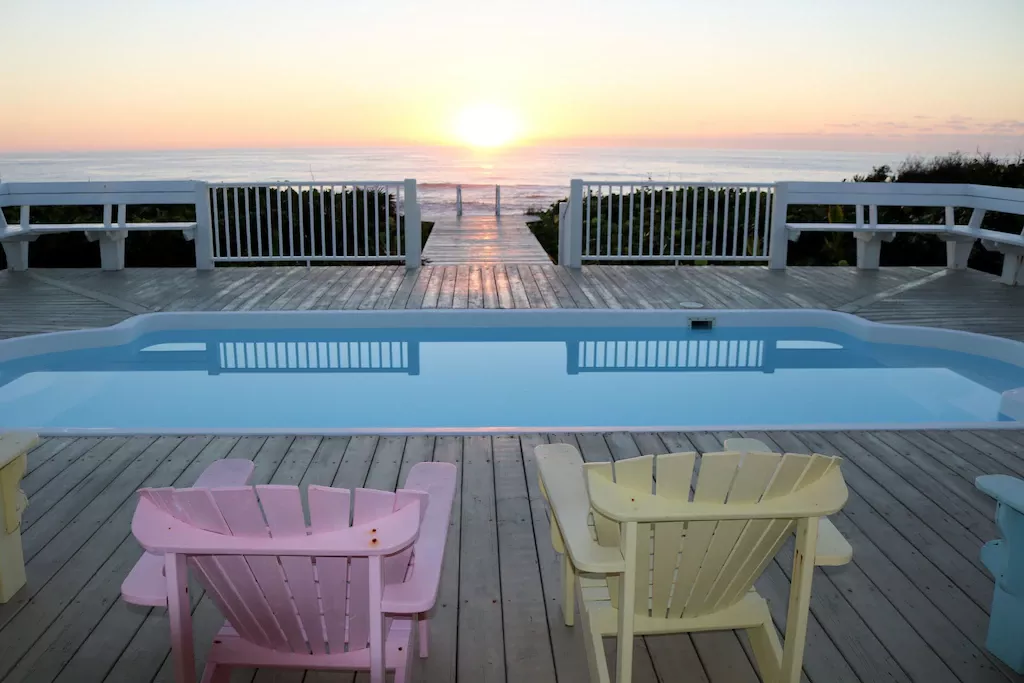 Hokie Hy is a pristine beachfront rental home that's perfect for fun-loving families, groups of friends, and sets of couples who want to relax and unwind. This charming home comes with all the best amenities while offering plenty of island charm throughout the home through special design details. The spacious rental is located in the ideal spot to explore everything the island has to offer, even without leaving the comforts of home.
Enjoy the breathtaking views not only from the stunning oceanfront pool deck and patio, but also almost any room in the house. Hokie Hy's luxurious accommodations and paradise location right on the beach make this the ultimate vacation escape from reality. Let the tropical waters and fresh, salty air soothe your body and mind as you take a much-deserved break in the perfect island vacation rental!
Layout/Rooms
Hokie Hy features an expansive interior with super high ceilings and an open-floor concept that keeps everyone feeling close and connected without sacrificing comfort and privacy. From the downstairs living and dining areas you can take in stunning views while relaxing in plush comfort. These spaces open to the fully-stocked chef's kitchen and breakfast bar that are perfect for planning adventurous days on the island while enjoying a quick snack. Upstairs you'll find a cozy TV area for watching movies after a long day, as well as a game table for game or card nights with a view.
Hokie Hy's outdoors boasts a beautiful private pool and spacious wooden deck that extends along a path surrounded by natural tropical landscaping. This deck is the ideal spot to grab a cold, refreshing drink to sip on in between sunbathing in the perfect island weather and taking dips in the pool and ocean. Steps from the deck lead directly down to the warm Sea of Abaco waters and white sands. Enjoy swimming, surfing, paddleboarding, or any other great beach activities during your amazing stay at Hokie Hy.
6 Bedrooms, 5 ½ Bathrooms
1 First Floor King bedroom with 1 bed, ensuite bathroom, and ocean view
1 First Floor King bedroom with 1 bed and ensuite bathroom
1 First Floor Queen bedroom with 1 bed, ensuite bathroom, and ocean view
1 First Floor Queen bedroom with 1 bed and ensuite bathroom
1 Second Floor Bunk bedroom with 2 bunk beds (4 beds) and shared bathroom
1 Second Floor Bunk bedroom with 2 bunk beds (4 beds) and shared bathroom
Highlights
Private pool and deck with oceanfront views
Direct access to warm Atlantic waters and soft sands
Two-story interior with high ceilings and plenty of room for everyone to enjoy
Chef's kitchen with large breakfast bar and beautiful views
Backup generator and central air conditioning to keep you comfortable during your stay
Available golf cart rentals to explore around the island with
Location
Hokie Hy is located in Hope Town in Elbow Cay, Abaco, The Bahamas. Elbow Cay is known for its beautiful beaches and sublime waters.This beautiful rental home is just a few minutes by golf cart into town where you can find all the amenities, shops, and restaurants you'll need while enjoying your stay on the island. You can even walk to most places while taking advantage of the beautiful island weather. Hokie Hy is close to everything, making your vacation stress-free and easy to navigate. Taxi rides are available to any location you need, so feel free to organize any of your plans ahead of time for even more fun and relaxation during your stay.
You Might Also Be Interested In: