Luxury Waterfront Home in February Point with Private Dock, Pool, and Wrap-around Veranda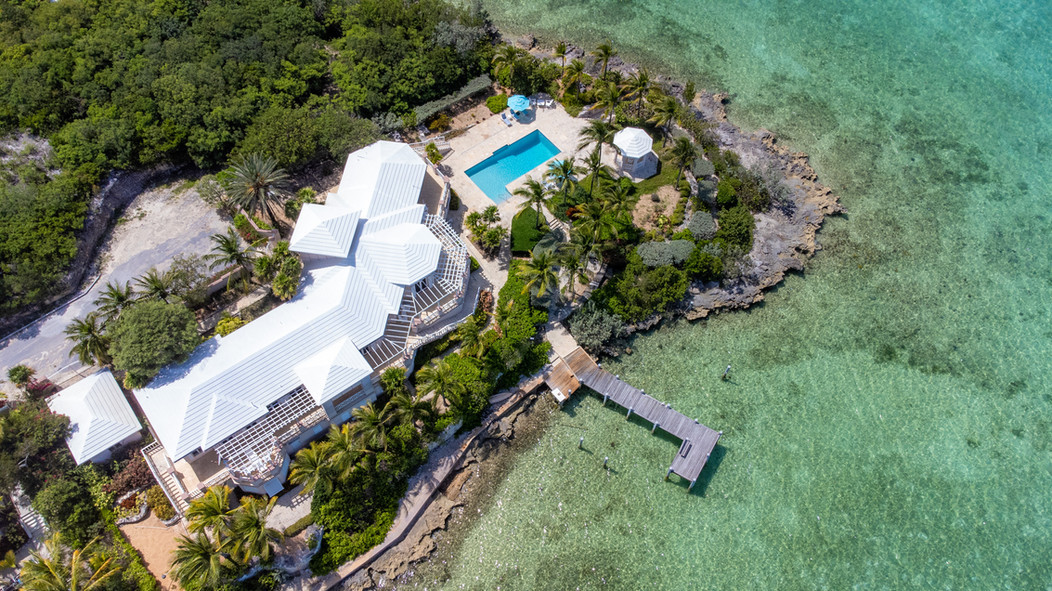 Exuma On The Rocks is a breathtaking oceanfront vacation rental with a private dock and massive private pool. Make this incredible location your home away from home and get ready to relax in ultimate luxury.
This beachfront rental is pure island bliss for families or couples looking to escape reality and enjoy a well-deserved break. Exuma On The Rocks is situated on its own private peninsula where you can bask in the privacy of the gated community while soaking in the sun and swimming in pristine waters.
Layout/Rooms
Exuma On The Rocks has a spacious and airy interior with modern luxury furniture fit for royalty. Enjoy the oversized gourmet kitchen that's well-equipped with high-end appliances and everything you need for perfect family meals. The lofty, vaulted ceilings make this a great space to dine with your loved ones while planning your amazing day on the island. There is also plenty of seating in the formal and informal dining spaces found right off the open kitchen area. Enjoy jaw-dropping views from any room in the house, including the cozy living space perfect for movie nights, the sitting room with plush, chaise lounges, and the upstairs pool kitchen ideal for snacks on the go.
Outdoors, you'll have access to one of the most beautiful places on the island with endless views of tropical waters that seem too good to be true. Enjoy the resort-style lounge chairs and umbrellas by the pool on the spacious deck as you sunbathe amongst the palms and lush, natural flora. The covered veranda offers panoramic views of the sea and can be accessed from the finely-appointed living and dining spaces indoors.
Exuma On The Rocks is a 4-bedroom, 5.5 Bathroom vacation home with room for up to 8 guests.
1 King-sized bedroom with ocean views and direct access to the veranda
1 Queen-sized bedroom with ocean views and direct access to the veranda
1 Queen-sized bedroom with ocean views and private seating area
1 Queen-sized bedroom with ocean views and private upstairs kitchen
Highlights
Gourmet kitchen perfect for a private chef or big family meals
Second-floor private pool with never-ending views of tranquil waters
Gorgeous veranda for enjoying the island breeze and amazing scenery
Charming gazebo for the idyllic spot to read and enjoy a morning cup of coffee
Private boat dock to enjoy fishing and premier boat access
Second-floor pool kitchen and living space so you don't have to venture far from paradise
The Location
Exuma On The Rocks is located in Great Exuma in an exclusive gated community overlooking Elizabeth Harbour. Feel safe and secure with 24/7 security. This gorgeous beach home is conveniently located on a private peninsula where you can enjoy serene privacy only minutes from George Town and the airport. There are also nearby resorts, spas, restaurants, and shops for you to explore and enjoy everything the island has to offer. You won't ever want this trip to end!
You Might Also Be Interested In: