Exclusive Beachfront Home With Private Island Vibe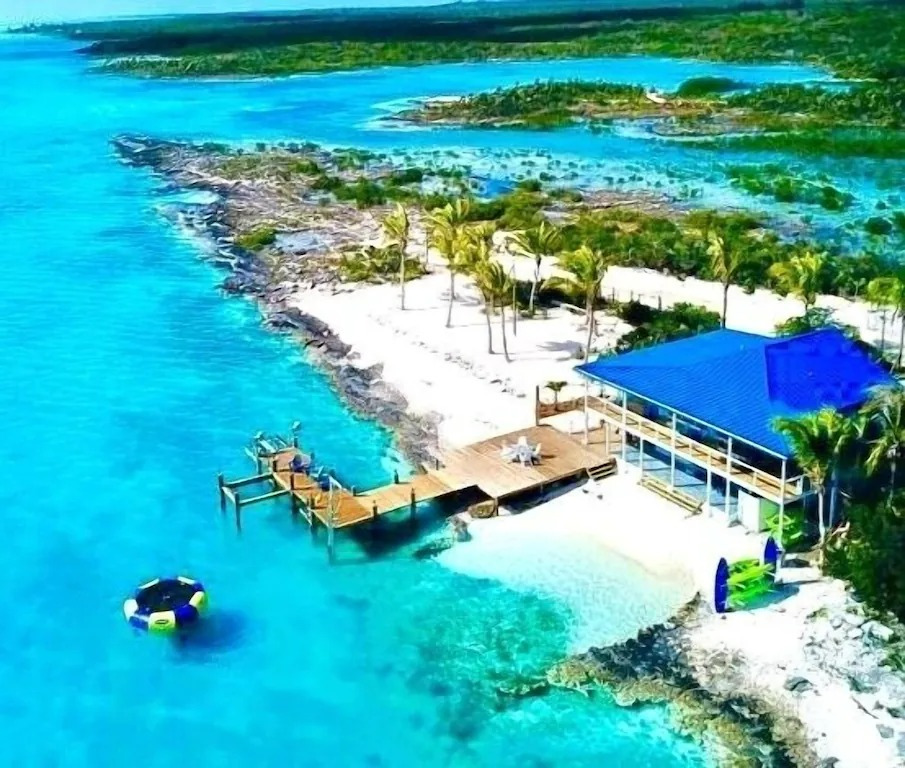 Are you searching for the ideal private living while on vacation? Then look no further than this exclusive beachfront home in on the south side of George Town, Exuma. Stunning white sand beach, azure blue water, soaring palm trees, and privacy make you feel like you're on a private island.
A wrap-around deck offers panoramic scenery that flourishes through the several glass walls and slider doors to the open-plan living area enhanced by the tall ceiling and calming color tone, allowing a soothing mood idyllic for relaxation. Gorgeous countertops, striking backsplash, modern stainless-steel appliances, generous cabinetry, and an island with seating space embellish the gourmet kitchen, suited to prep your savory meals.
Natural light gleams in the loft bedroom graced by trundle beds and a neutral palette, providing a restful ambiance as you start your day. Ground-level guest bedrooms, including the primary suite with king beds, feature an ensuite and an inviting tropical vibe, sure to inspire you to wake up and explore what Exuma has to offer. Freshen up after a long day at the beach in the bathroom adorned with a vanity and shower accentuated by gorgeous tiles. A gas firepit with sandbar views at low tide, a large deck, and a covered porch, complete with seating areas, will inspire you to take in the morning sun the moment you wake up. As a bonus, you'll have a private dock, an in-house gym, a driveway shooting hoop, a suspension net, a rope swing, a water trampoline, and other water activity essentials.
Layout/Rooms
An expansive deck offers breathtaking beach views and ushers you to the open-plan living area, where you'll discover an inviting atmosphere to relax as you walk in. The fully-equipped kitchen features ample cabinetry, stainless steel appliances, a wine chiller, generous countertops, an eat-in island, and majestic panoramas sure to inspire the home cook.
This residence features 4 bedrooms that can accommodate up to 12 guests, a loft with trundle beds, and the other 3 bedrooms on the ground level, along with the ensuite primary suite. Outside, alfresco dining offers views of the outdoors, a generously sized covered porch with a seating area, a private dock, a gas firepit with sandbar views at low tide, an in-house gym, a driveway shooting hoops, and water activity essentials are ready to enjoy.
4 Bedrooms, 6 Bathrooms
1 King bedroom with 1 king bed and ensuite
1 King bedroom with an ensuite and majestic views
1 Queen bedroom with 1 queen bed and sleep sofa
1 Loft bedroom with 2 trundle beds
Highlights
Proximity to Exuma Airport
Picturesque beach views with a private island vibe
Wrap around deck and covered patio ideal for relaxation
An open-concept living area enveloped by glass walls and sliders, providing uninterrupted vistas
Full-equipped kitchen with an eat-in island
A loft bedroom fitted with trundle beds
Main floor and ground level ensuite master bedroom oozing with comforting ambiance
Ground floor guest bedrooms offering an inviting tropical vibe
Gorgeous bathrooms adorn with vanities and showers
Alfresco dining with showcasing a sweeping scenic views of the beach
Beach access
A gas firepit with sandbar views on low tide
Generous seating spaces sure to inspire to take on the morning sun
Private dock, in-house gym, a driveway shooting hoops, and water activity essentials
Washer/dryer units
Air conditioning units provides a refreshing ambiance on tropic conditions
Smart TVs and cable
Feeling bored? Play some board games
Wi-Fi connection lets you share your memorable vacation experience
The Location
Set in George Town Exuma, this breathtaking exclusive beachfront home offers sapphire-blue water and easy access to shops, restaurants, and numerous sandy white beaches. A variety of activities are available to visitors, including swimming with sea turtles in Hoopers Bay, interacting with locals at TNT delights, swimming with the famous pigs, snorkeling in Thunderball Grotto, visiting the islands on a day trip, or taking the water taxi around the island.
You Might Also Be Interested In: