Moriah Harbour Beach House with Private Pool and Boat Dock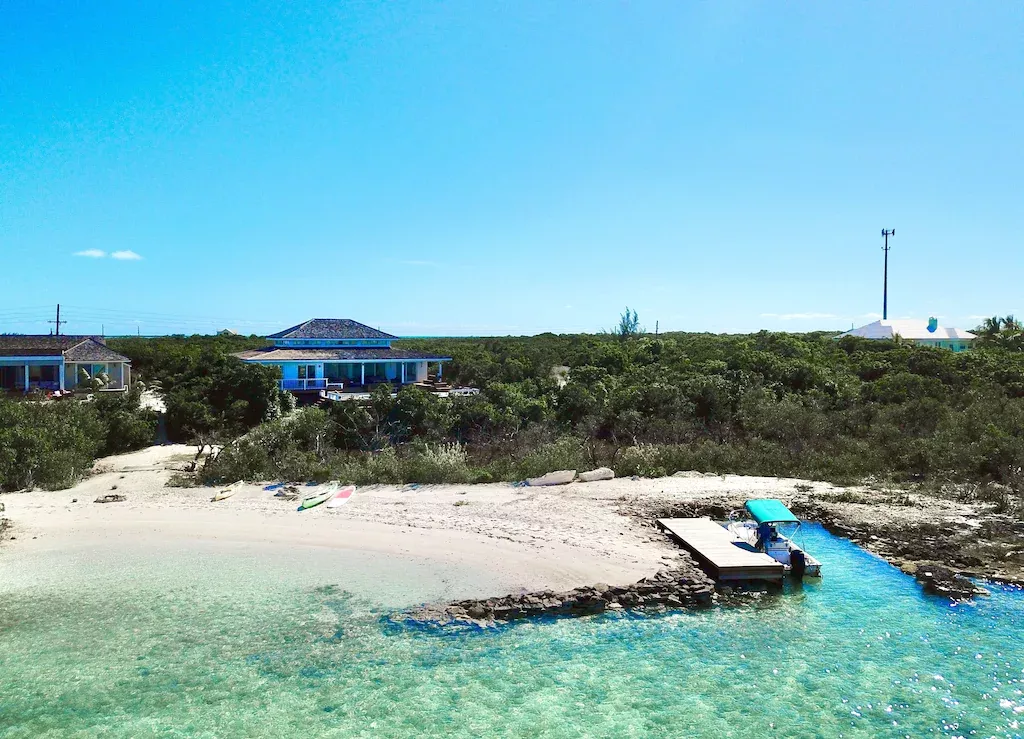 The Surf House is a beautiful beachfront home with a private boat dock located in Moriah Harbour in Hartswell, Exuma. This charming 4-bedroom villa sits right on the beach and has a refreshing pool centered on the beachfront patio. Enjoy the beauty of The Bahamas from this exquisite location where you can come and go by boat any time you please.
The Surf House is the perfect location for couples or families to stay in thanks to the spacious interior and well-appointed patio space. Treat yourself to this secluded getaway and experience blissful island life away from crowds and traffic. Spend all day exploring the island by walking along soft sand beaches or jumping in a boat and taking a cruise. Or maybe you just want to relax by the pool with a good book and soak it all in. No matter your mood, The Surf House has it all.
Layout/Rooms
The Surf House has an open and spacious interior that comfortably accommodates up to 8 guests.This rental home features high ceilings and a sprawling living and dining space that extend out to a beautiful high-end kitchen. The space is filled with natural light and ample seating options that offer gorgeous views of the endless waters. The kitchen comes with everything you need to make big island meals and features a pass-through window to the outdoor dining table. The natural flow between the indoor and outdoor spaces keep everyone feeling connected when moving between locations.
The double sliding glass doors of the living room open out to the wooden deck that comes with luxury outdoor seating and a crystal-blue private pool. Enjoy al fesco meals under the covered veranda at the large outdoor table and experience incredible views as far as the eye can see. There are resort-style loungers available so you can soak in the sun and relax in paradise. Just steps from the patio is the private boat dock and beach cove that you can enjoy any time of day. After an exciting day exploring the island, come back to rejuvenate in one of the cozy bedrooms specially designed for your comfort.
4 Bedrooms, 5 Bathrooms
1 King Bedroom with 1 bed, direct patio access, and ensuite bathroom
1 King Bedroom with 1 bed, direct patio access, and ensuite bathroom
1 King Bedroom with 2 twin beds, ocean views, and ensuite bathroom
1 King Bedroom with 2 twin beds and ensuite bathroom
Please note that a king bed may be converted into two twins. Please contact us to discuss your preferences.
Highlights
Private pool with lounge chairs and wonderful views of the turquoise waters
Semi-private beach cove right in the backyard
Private boat dock so you can take a trip out any time you wish
Available kayaks to explore the warm waters with
BBQ grill for great outdoor cooking and dining experiences
Available washer and dryer for your convenience
Location
The Surf House is located at the center of Hartswell, Exuma, in Moriah Harbour. This private part of the island is perfect for a relaxing and secluded getaway where you can unwind and feel refreshed. The beautiful blue waters are perfect for swimming, kayaking, and boating, and the private dock makes a great spot to go fishing or stargazing on warm island nights. This location is a short drive from the airport and has plenty of small shops and restaurants to enjoy nearby. The Surf House is a fantastic location, and you'll love your amazing stay here!
You Might Also Be Interested In: