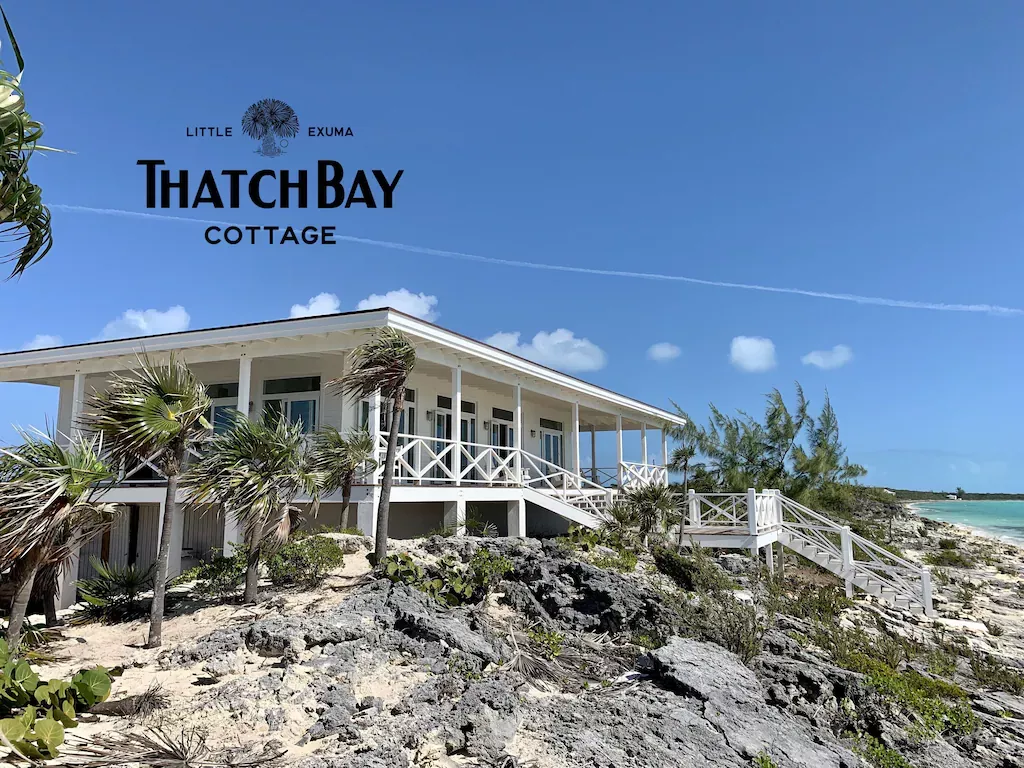 Located on the beautiful island of Little Exuma, Thatch Bay Cottage offers both comfort and luxury. Situated on a secluded beach, this property gives you the utmost privacy with stunning views of clear turquoise waters. This is the perfect place if you want a quiet getaway from the hustle and bustle of the city.
White interiors compliment the living area, dining, and kitchen with furniture in white and earthy tones. Tastefully accented with decor items made from wood and natural materials, you get a tropical vibe throughout the house. High ceilings give you the illusion of a wider and bigger space.
The indoor space connects seamlessly to the outdoors as a wrap-around deck is accessible from the living area, dining, and kitchen through multiple big glass sliding doors. You can enjoy the ocean views while lounging around in the living room, enjoying a nice dinner, or even cooking in the kitchen.
Layout/Rooms
The interiors feature an open floor plan. The living area flows to the dining area and kitchen, which makes the space perfect for entertaining and spending quality time with family and friends. The living area offers a cozy space for lounging with a flat-screen TV for entertainment – although you probably will not need it with the gorgeous views.
The dining table, made of dark-toned wood, can seat up to eight people. Meanwhile, the kitchen features a counter that seats up to four and is well-equipped with everything you need to whip up a delicious meal.
With three bedrooms, Thatch Bay Cottage can accommodate up to seven people. The bedrooms also feature white interiors with light and natural colors used as accents. The primary suite features floor-to-ceiling sliding glass doors that open to the deck, an ensuite with an elegant dual sink, and a spacious walk-in shower.
Outside is a wrap-around deck with seating and lounging areas – perfect for relaxing or getting a cup of coffee while enjoying the ocean views. The deck also has direct access to the white sand beach that surrounds the cottage.
3 Bedrooms, 2 Bathrooms
1 King ensuite bedroom with 1 king bed and panoramic views
1 Queen bedroom with 1 queen bed and 1 twin bunk
1 Queen bedroom with 1 queen bed
Highlights
Stylish open-concept living/dining areas with breathtaking ocean views
Spacious wrap-around deck with easy access to the living/dining areas
Well-equipped gourmet kitchen with a breakfast bar
Luxurious bedrooms oozing with comfort
Direct and private access to Exuma Beach
Water sports gear like kayak, canoe, and snorkeling equipment
Smart TVs, cables, and satellite to keep you entertained
Centralized and split air conditioning
Wireless internet connection
Parking space
The Location
Thatch Bay Cottage is located on the south side of Little Exuma on a secluded beach. Tropic of Cancer Beach in Little Exuma is only a short drive away. With a stretch of pristine white sands and turquoise waters just out your door this beach getaway is in a prime location for relaxation. The property is just a twenty-minute drive away from George Town and is situated close to a few restaurants and stores in Little Exuma, including Santanna's and Tropic Breeze.
You Might Also Be Interested In: