Stunning Vacation House with an Infinity Pool by the Beach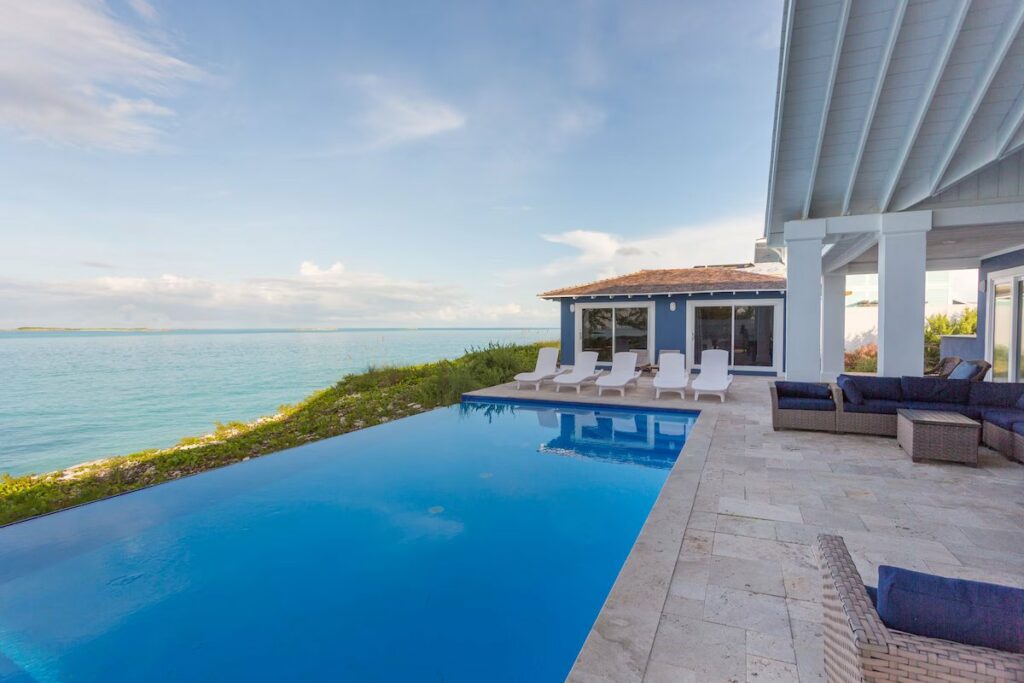 Nestled on a private beach in Exuma, Beachwood Beach House offers a truly luxurious experience. With mesmerizing views, this beachfront property can be your home away from home. Each room opens to a balcony or patio so you can fully immerse yourself in the beauty of the surroundings.
The beach house has a single-story layout. Adorned with tasteful cottage-core furnishings in soft and subtle hues, every corner of the home radiates a warm and cozy atmosphere. Immerse yourself in the embrace of rustic elegance, with furniture and decor crafted from natural materials such as wood, accentuating the home's connection to nature.
Prepare to be captivated as you enter the main great room with 27-foot ceilings that elevate the sense of spaciousness. Every detail has been thoughtfully curated to create a harmonious and welcoming space that beckons you to relax, recharge, and create lasting memories. With complete amenities, Beachwood Beach House is the ideal retreat for those seeking relaxation and adventure.
You can take a refreshing dip in the outdoor pool or unwind in the spa tub. A private beach is just several steps away. Kayaks, skimboards, snorkeling gear, and other water sports gear are also available, providing plenty of options for recreational activities. And if you want to explore the other islands, a boat is available for rent with a captain.
Layout/Rooms
Beachwood Beach Hose has everything you need for a comfortable stay. It features a state-of-the-art kitchen equipped with modern amenities such as refrigerators, stovetops, microwaves, cookware, and utensils – perfect for whipping up delicious meals. The kitchen flows seamlessly to the dining area which comfortably seats up to 8 people.
Meanwhile, the living area has tall glass doors that open to the outdoor deck, giving you breathtaking views of the infinity pool and the ocean. The deck offers plenty of seating with a few couches and several lounge chairs.
This vacation home can easily accommodate up to 16 people. Each bedroom, featuring a unique color scheme, has direct access to the outdoor areas and complete amenities to make your stay comfortable. Outside of the main house is a pool house with two separate bedrooms to fit more guests.
The outdoor patio pool connects to the main house and the pool house through big sliding glass doors. From the patio, you get direct access to the private beach.
7 Bedrooms, 4 Bathrooms, 1 Half Bathroom
1 King ensuite bedrooms with 1 king bed
1 King bedroom with 1 king bed
2 Queen bedrooms with 2 queen beds
1 Queen bedroom with 1 queen bed
1 King bedroom at the pool house with 1 king bed
1 Twin bedroom at the pool house with 2 twin beds
Highlights
Luxurious open-concept living/dining areas with stunning ocean views
Spacious outdoor deck with lots of seating
Infinity pool and a hot tub
State-of-the-art kitchen with a breakfast bar
Direct access to a private beach
Recreational facilities like bicycles, kayaks, boogie boards, and snorkeling gear
Boat available for rent with a captain
Smart TVs, cables, and satellite to keep you entertained
Centralized and split air conditioning
Wireless internet connection
Parking space
The Location
Situated in Forbes Hill, this vacation home offers a prime beachfront location and is close to local landmarks like Rolletown Tombs and Hermitage Tomb. Popular attractions such as Lucayan Archipelago and Tropic of Cancer Beach are just a short drive away. Don't miss on seeing the local wildlife through activities like game walks and birdwatching.
You Might Also Be Interested In: