Gorgeous Great Exuma Beach Home with Private Dock and Pool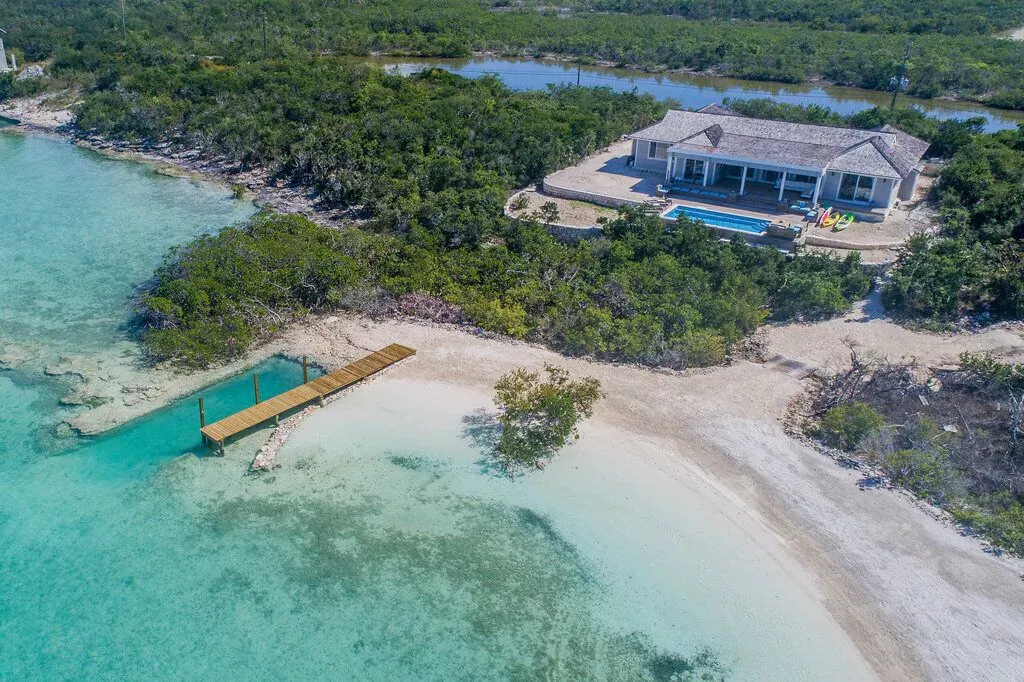 Sueno De Mar is a luxury beachfront rental with all the comforts of home built in so you can focus on relaxing and having fun. This incredible home is perfect for couples, families, or any large group that wants to get together and have a great time. The private pool is perfect for splashing and relaxing in, and the private dock makes taking adventures out on the waters a breeze.
With the beach right in your own backyard, you can swim and explore the best that Exuma has to offer. Enjoy marvelous views of Moriah Harbour and soak in every wonderful moment you have on the island. Take the available kayaks out for some ocean-life sightseeing or curl up with your favorite book by the pool and relax. Sueno De Mar has everything you need for the ideal tropical vacation where you can surround yourself with your favorite people in your new favorite spot.
Layout/Rooms
The spacious indoor layout is perfect for keeping your whole group connected while still offering everyone the privacy they need. Sueno De Mar has an open and roomy floor plan with a cozy living room and dining space that offer plenty of seating options. The brand new kitchen comes with everything you need to cook up amazing meals to enjoy together as a group. This home features 4 bedrooms for up to 10 guests to enjoy, with 2 bedrooms positioned on either side of the house that have direct patio access.
Step out to the partially-covered patio to enjoy jaw-dropping views of the Harbour from any location. You'll find ample seating options available where you can sit and relax with friends and family while soaking in the sun and breathing the refreshing ocean air. The pool is the perfect spot to relax and refresh in, and the amazing views of the turquoise waters make the experience even better. Just steps from your patio are the semi-private beach cove and the private boat dock that you can use at your convenience. Enjoy the amazing warm waters and start exploring Moriah Harbour and all its wonders.
4 Bedrooms, 5 Bathrooms
1 King Bedroom with 1 king bed, ensuite bathroom with double vanity and large tub, and direct patio access
1 King Bedroom with 1 king bed (or 2 twin beds), ensuite bathroom, and Harbour views
1 King Bedroom with 2 twin beds (or 1 king bed)
1 King Bedroom with 2 twin trundle beds (4 beds total) and ensuite bathroom
Highlights
Private dock for your boat that's great for fishing, diving, and stargazing
Private patio pool for refreshing dips in the tropical sun
Semi-private beach with access to some of the warmest, clearest waters on the island
Spacious partially-covered patio with sun loungers, BBQ, and cozy seating spaces
Laundry area available for your convenience
Kayaks and paddle boards for exploring the island waters
Location
Sueno De Mar is a gorgeous location in the heart of Hartswell, Exuma in the The Bahamas. This home is right in Moriah Harbour, which is known for its exquisite beaches and stunning blue waters. Hartswell is a quiet and laid-back part of Exuma that's perfect for a relaxing retreat away from all the crowds. This home is a short drive from the airport and is close to any shops or amenities you may need. Enjoy this one-of-a-kind island getaway and take in all the magic of this serene tropical oasis!
You Might Also Be Interested In: